Are you ready to turn your dream of owning an auto repair shop into a reality?
You've got the skills.
You've got the passion.
You've got the plan.
You're ready to start your own auto repair shop.
…but hold up! What about the name?
Yes, the name! It's more than just a string of letters. It's your brand's first handshake with your customers, your business's neon sign in the bustling city of entrepreneurship.
Imagine this:
You're at a party, and someone asks, "So, what do you do?"
And you, with a twinkle in your eye, say, "I run my own auto repair shop, it's called…"
Boom! That's where the magic happens. Your auto repair shop's name isn't just a label—it's the heart and soul of your brand identity, a beacon for your customers.
Dare I say, the cherry on top of your entrepreneurial sundae.
Let's take a thrilling ride through the world of auto repair shop naming – where creativity meets practicality!
Understanding Your Brand
Naming your auto repair shop? First, you need to grasp its personality and its unique vibe – its 'brand identity.
Is your shop the friendly neighborhood go-to or the futuristic tech whizz?
This identity is your guiding star, directing every business decision right down to the name.
Your brand should echo your values and what sets you apart.
Speed and efficiency?
Outstanding customer service?
Identifying these will streamline your ride to the perfect shop name. The name matters a lot. Which mechanic tool brands do you use?
Do their names resonate in your head?
Does a certain name seem better to you?
The same is true for auto repair shop names.
7 Different Types of Auto Repair Shop Names
You can brainstorm from the following 7 mechanic shop name ideas.
1. Say What You Do – Descriptive Auto Repair Shop Names
A long and descriptive name is a straight shooter. It tells your customers what you do without any bells and whistles. It's like your shop's tagline—minus the tagline. For an auto repair shop, adding terms related to your services can instantly communicate your offerings.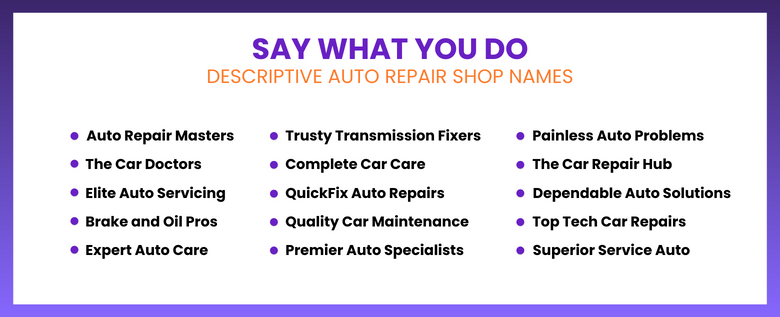 Auto Repair Masters
The Car Doctors
Elite Auto Servicing
Trusty Transmission Fixers
Brake and Oil Pros
Complete Car Care
QuickFix Auto Repairs
Quality Car Maintenance
Premier Auto Specialists
Top Tech Car Repairs
Superior Service Auto
Dependable Auto Solutions
Expert Auto Care
The Car Repair Hub
Painless Auto Problems
2. Love Thy Neighborhood – Geographical Auto Repair Business Names
Incorporating your location into your car shop name can foster a sense of community. It can make your business feel more accessible and familiar to local customers.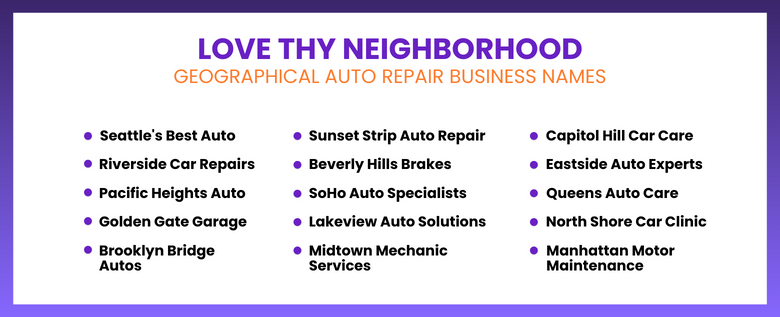 Seattle's Best Auto
Sunset Strip Auto Repair
Capitol Hill Car Care
Eastside Auto Experts
Manhattan Motor Maintenance
Riverside Car Repairs
Brooklyn Bridge Autos
Midtown Mechanic Services
Pacific Heights Auto
Lakeview Auto Solutions
Golden Gate Garage
SoHo Auto Specialists
Queens Auto Care
North Shore Car Clinic
Beverly Hills Brakes
In My Name We Trust – Personal Auto Repair Garage Names
Adding your name to your repair garage can create a personal connection with your customers. It suggests a sense of ownership and accountability that many customers find appealing.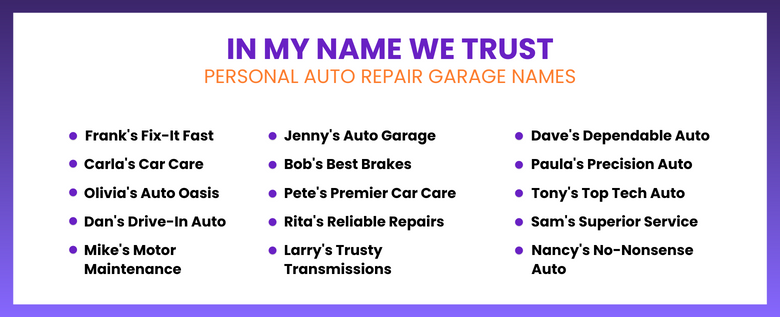 Mike's Motor Maintenance
Jenny's Auto Garage
Frank's Fix-It Fast
Dave's Dependable Auto
Carla's Car Care
Bob's Best Brakes
Tony's Top Tech Auto
Rita's Reliable Repairs
Sam's Superior Service
Paula's Precision Auto
Larry's Trusty Transmissions
Nancy's No-Nonsense Auto
Pete's Premier Car Care
Olivia's Auto Oasis
Dan's Drive-In Auto
4. Dare to Be Different – Quirky or Creative Auto Repair Shop Names
Want your shop name to stand out from the crowd? Get creative or even a bit quirky. A unique mechanic shop name can make your shop memorable and show your business's character.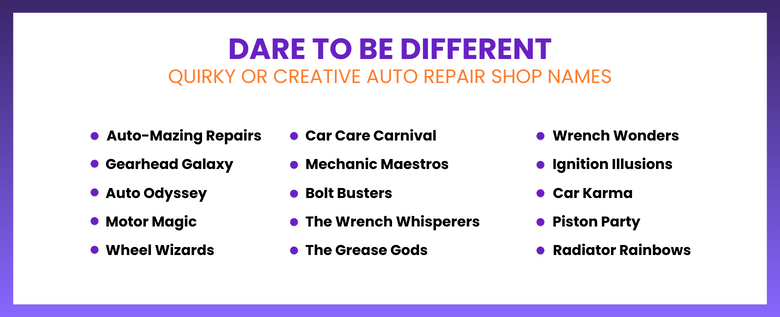 Auto-Mazing Repairs
Car Care Carnival
Wrench Wonders
Mechanic Maestros
Gearhead Galaxy
Ignition Illusions
Auto Odyssey
Bolt Busters
Car Karma
The Wrench Whisperers
Motor Magic
Piston Party
Wheel Wizards
The Grease Gods
Radiator Rainbows
5. Can't Forget That! – Catchy Auto Repair Shop Names
Catchy names have a certain rhythm or rhyme that makes them stick in your customer's mind. Try a name that rolls off the tongue, try alliteration, rhyme, or a play on words.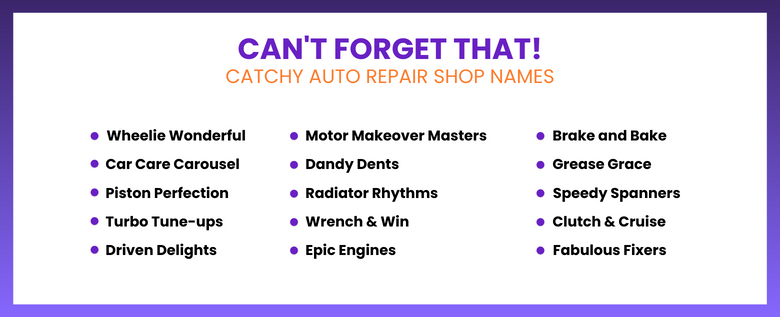 Motor Makeover Masters
Wheelie Wonderful
Brake and Bake
Car Care Carousel
Dandy Dents
Grease Grace
Piston Perfection
Radiator Rhythms
Speedy Spanners
Turbo Tune-ups
Wrench & Win
Clutch & Cruise
Driven Delights
Epic Engines
Fabulous Fixers
6. Laugh and the World Laughs with You – Funny Auto Repair Shop Names
Humor can be a powerful tool in your naming arsenal. A funny mechanic shop name can bring a smile to your customer's face and make your shop stand out in their mind.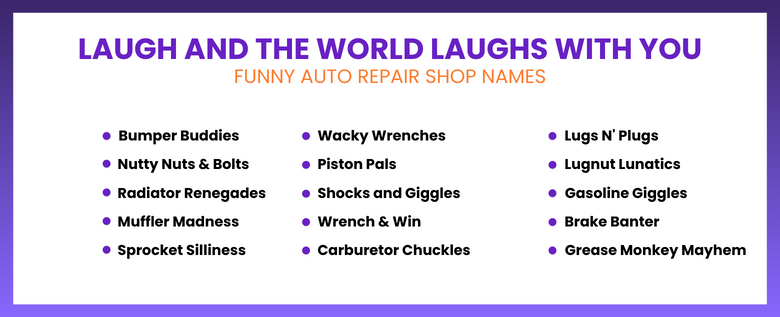 Bumper Buddies
Wacky Wrenches
Lugs N' Plugs
Nutty Nuts & Bolts
Crankshaft Comedy
Grease Monkey Mayhem
Piston Pals
Lugnut Lunatics
Radiator Renegades
Shocks and Giggles
Gasoline Giggles
Muffler Madness
Brake Banter
Sprocket Silliness
Carburetor Chuckles
7. Short and Sweet – Short and Simple Auto Repair Shop Names
A short and simple auto repair shop name is easy to remember and convenient to look up. The key is to keep it simple, clear, and compelling.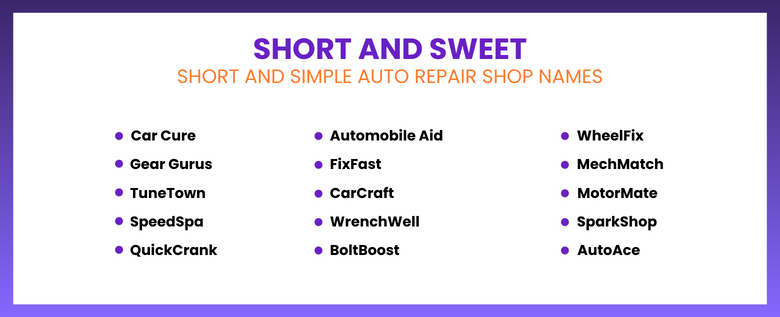 Car Cure
Automobile Aid
WheelFix
Gear Gurus
FixFast
MechMatch
TuneTown
CarCraft
MotorMate
SpeedSpa
WrenchWell
SparkShop
QuickCrank
BoltBoost
AutoAce
Tips for Choosing the Perfect Mechanic Shop Name
Your mechanic shop's name is more than just a name.
It's a reflection of your brand, your services, and your values. But how do you pick the perfect one?
Originality is Key
Originality doesn't just help you stand out—it also helps avoid legal issues. Before you get too attached to a name, do a quick search to see if it's already in use or trademarked by another business. This way, you can avoid potential rebranding expenses and trademark conflicts down the line.
Easy to Say, Spell, and Remember
Your customers should be able to recall, spell, and pronounce your shop name easily. A simple spelling test is to share the name with friends or family and ask them to spell it back to you. If most of them struggle, it's probably too complex.
SEO-Friendly
With most customers searching for businesses online, it's crucial to choose a name that is SEO-friendly. Consider common search terms in the automotive repair industry and see if you can incorporate any into your name.
Domain and Social Media Availability
Check if your desired name is available as a domain name for your website, as well as on social media platforms. Consistency across platforms makes it easier for customers to find you online.
Reflect Your Brand and Services
The name should give some indication of what services you offer. This helps potential customers to understand what your business is about instantly.
Test It Out
Before you make your final decision, test out your name with a small focus group. This could be friends, family, or even potential customers. Their feedback can provide valuable insights and help you make a confident choice.
Be Patient
Lastly, remember that finding the perfect name, like finding the perfect auto repair Store software, can take time. Don't rush the process—it's worth taking the time to choose a mechanic shop name you love and feel confident about.
Frequently Asked Questions
Auto Body Masterworks
Precision Collision Repair
Elite Auto Refinishing
Perfect Panel Paintworks
The Body Shop Pro
Ultimate Auto Restorations
Flawless Auto Body Works
Mastercraft Auto Repairs
Prime Finish Auto Body
Supreme Collision Center
Yes, there are several online tools and generators that can help you generate names for your repair shop. Some popular ones are:
On-the-Go Auto Repairs
Mobile Mechanics Direct
Auto Repair Anywhere
QuickFix Mobile Mechanics
Driven to Repair
Roadside Auto Rescue
Mobile Auto Masters
The Mobile Mechanic Hub
GoMechanic Mobile Services
Mobile Auto Medics
Know your peeps: Target your ideal customers with a name that speaks their language.
Show off your skills: Make your name reflect your expertise in mechanics and repairs.
Be a rebel: Stand out with a unique and memorable name that catches attention.
Keep it chill: Choose a name that's easy to say and rolls off the tongue effortlessly.
Check availability: Make sure your chosen name is free as a domain and on social media.
Other input matters: Gather opinions from friends, crew, and customers for valuable insights.