It's easy to start any business, but it's hard to sustain its success. Especially when it comes to auto repair shops. There have been many people who started an auto repair business, but they closed shortly after or switched to another business. While many shops are struggling, there are still plenty reaching the top using the right tools. For instance: auto garage software.
If we look at past methods they were time-consuming and physically draining. But in a super competitive market, those methods are not so successful if you want to cut those big businesses around you in town.
You might have a question in your mind, those methods were successful before what made them not work today? The next heading will answer you shortly.
Let's roll down and see how digital tools help your game go stronger. 😎
Bring Technology To Your Auto Repair Shops
Vehicles were never so complex if we look into the past. Back then there were no electric vehicles, complicated engineering vehicles, or heavy electromechanical systems. Customers were more patient, today customers want everything to be fixed quickly.
If we jump back to the time like how our ancestors used to run auto repair shops: they used to rely only on senses such as sight, hearing, smell and touch to recognize a problem in the vehicle, but now the demands are much more complex.
Basically, technical specialists back then relied heavily on their previous experience and logical thinking. But that's not enough for today. Technicians have to become tech-savvy.
Therefore, auto repair shops are using advanced diagnostic scanning technology to detect the problem in vehicles. Manual diagnostics will take a lot of time and it will take you days to repair just one vehicle.
Modern auto repair shops are providing customers ease with their highly advanced technological methods. So why would customers come to shops that have chaotic and Stone Age methods? Makes sense to you now?
Modern Diagnostics
You must be aware of fixing problems like a cracked cylinder, hitting tappets, nozzle problems, worn valve seat to name a few. There is only one way to resolve these problems: disassembling the engine and removing the cylinder head are necessary steps to determine the extent of the damage.
Borescopes and videoscopes have entered the automotive repair solutions market, as more compact and accessible technologies have also emerged in recent years! This means that these tools can be used in the workshop to perform a real battery of diagnostic imaging tests on a car's engine before it is disassembled.
The borescope functions like an endoscope in that it consists of a cable with a small camera attached at one end, whereas the videoscopes functions as a kind of ultrasound, which can see through thinner walls of the block.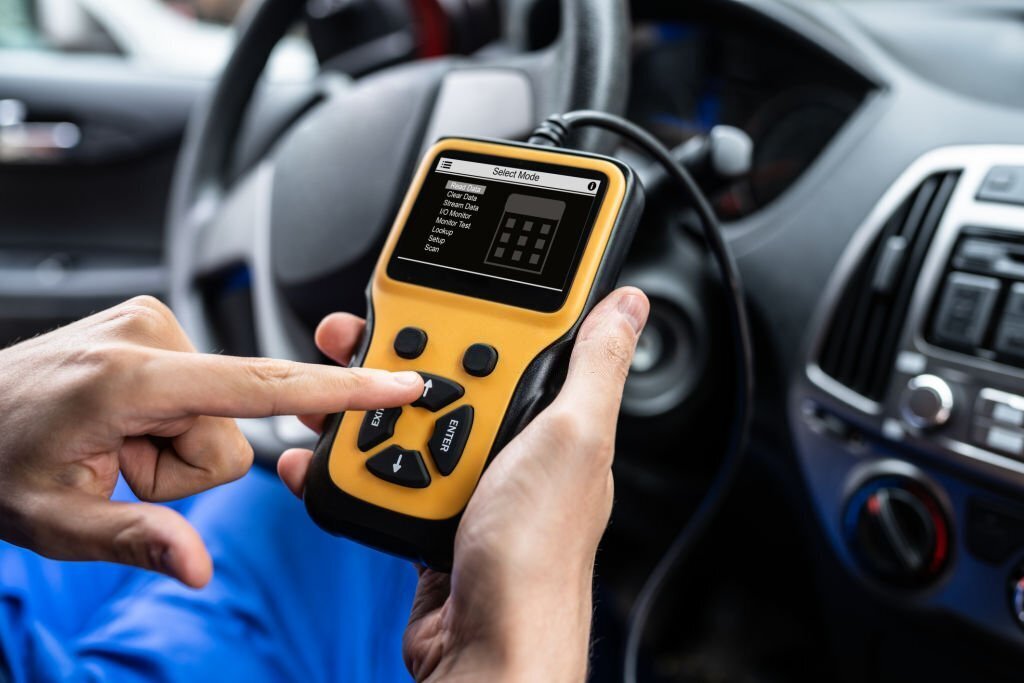 OBD Scanners
To stand out from other ordinary shops, you have to offer something that makes you different from other auto repair shops. Quick fixes, precise estimates, good customer services, it can be anything.
Try to use such tools and software that gives faster, more reliable, results. Such as OBD scanners. It helps to diagnose the problems in vehicles and it is integrated with auto garage software. So you can easily do digital vehicle inspection using OBD scanners and digital inspection software.
OBD scanners digitally inspect your car by scanning codes and automatically identifying the parts that need to be fixed using the auto garage software. These scanning devices plug into customers' vehicle's OBD port to read data collected from the many sensors it contains.
This is how technicians' time is also saved and they are able to do more repairs in less time. You can create multiple work orders in this way for multiple customers in a day.
Get Your Estimates Approve With Electronic Signature
Once your technician and service advisor are done with inspecting a vehicle the next step is to give estimates to customers. Basically, it's the step where you tell your customers the cost of the repairs. You give them an estimate about how they will be charged for certain repairs that need to be fixed in their vehicles.
Ah, this step is a bit crucial, let's just take an example here, when you go out to eat food in a restaurant, you look in the menu and see which dish comes to your budget and order it. You never ask a restaurant manager or chef to give you estimates about food costs.
But in the auto repair business, you have to tell customers " what they are paying for". One of the reasons is that vehicles repairs are expensive. And sometimes shops try to cheat customers in order to make more money. It makes sense why customers get suspicious.
However, to gain customers' trust you can send digital estimates using auto repair estimating software with complete transparency.
Attach Pictures For Transparency
Talking about transparency, while you give estimates or inspect vehicles, you can attach pictures. Picture lets customers know whatever you are saying is true. In this way, they pay you more comfortably.
Each of us has experienced forgetting what we heard one day earlier. Similarly, when customers leave their vehicles in the garage, your service advisor gives them estimates and explains to them what is the problem and what needs to be replaced.
But they tend to forget when they come to get their vehicles back. They blame you for estimating wrongly, or the problem you had to fix was never there in the first place. Then they say things like, "you did that just to make money.". Such lines are hurtful. 🤔
Feeling the chaos? To avoid such things, you attach pictures and every conversation stays in the customer's repair order. That way, there will be no mismanagement later.
Get Paid Digitally
Following every repair performed by your technician, you run to post an invoice to your customer's address. Or give a phone call to customers to appear at your shop and pay. You use different modes to get paid.
But what if I tell you, now you can get paid under 20 seconds using auto repair invoicing software read more about auto repair invoicing software. Customers can pay you from anywhere, they just need their smartphone and a Wi-Fi connection. You don't have to run around posting invoices.
Torque garage software helps you create detailed invoices straight from the job board. Share these invoices with your customers directly to keep them in the loop! Never spend hours on tedious paperwork again by using auto repair invoicing software.