Interested in starting your own RV repair business? It is a great idea to start an RV business, but you want to ensure that you are strategic before you begin. You must remain consistent and flexible in this journey, from planning to execution.
At times, having a lot of ideas in mind can be overwhelming, so you have to put those ideas into action and make them work for you.
Thinking too much? Just relax, take deep breaths! 😲
In the beginning, you should take your time and invest a good time in researching your niche and find out what existing successful businesses are doing to flourish their RV repair business. Don't try to do too much too soon.
The first step is to learn as much as you can, then proceed. When you feel the right time is right, then unleash your inner entrepreneur!
Put your seat belts and gear up because I will take you on an amazing ride where you will learn all useful tips for starting a successful RV repair business. I will share the common mistakes to avoid in your startup.
Quick Overview of RV Repair Business
The journey that you are about to start is fun yet demands a lot of things from you. Like your time, efforts, research, investment and motivation, etc.
Are you good under the hood? Yeah?
Cool, but this is not enough to start your RV business. Opening an RV repair business is not easy. You need to consider many things before getting started, such as the location of your shop, how to set up your accounting system, and the licenses you will need to operate.
Each and every step is important. That's why conducting your deep research is important so you can make the right decision. 🔎
Repairing and tinkering with your RV can be a lot of fun. But it can also be challenging, especially if you're starting from scratch.
To start an RV repair business, you will need to research your local RV repair market, purchase the right tools for repairs, hire certified technicians and build a strong client base.
For new entrepreneurs like you, we've put together a handy guide to help you start off on the right foot as an independent business owner in the RV repair industry.
What is the RV Repair Business?
To begin with, let's go with the basics.
RV repair business is a business that provides services to RV (recreational vehicle) owners. There are different types of RV vehicles in the market; some are motorhomes, campervans, coaches, caravans and truck campers.
The most common services RV repair businesses provide are basic or complex maintenance and repairs to RV vehicles, such as replacing broken parts or fixing leaky seals.
Profits Generated by RV Repair Business
RV Business offers a wide range of benefits and profits to people who are looking to make some extra money or start their own business.
RV repair businesses are becoming more and more popular throughout the United States. In fact, according to the U.S. Census Bureau's 2017 RV dealer survey, RV dealers generated an average of $9.7 million in sales, $571,822 in average sales per employee, and $11.80 in sales per dollar in employee wages.
RV repair is a booming market. A lot of folks love RVing! People love to travel and take fun road trips every year, but before that, they leave for the road. They always ensure that their RVs are set for the ride, and they look for an RV repair specialist to fix their vehicle.
If you are opening a shop in America, you must plan to become a professional American RV specialist for customers so that they trust their expensive RVs without a second thought.
Once you build a strong relationship with customers, they will automatically bring more business to your shop. RVers have their own strong community and can rapidly spread a good or bad name about your shop.
As summertime is around, and this is the most active time for RVers. So setting up your Rv repair shop in the trip season would be a smart decision.
How to Set Up Your RV Repair Business?
Now that you know how profitable the RV business is for you, are you ready to set it up?
But wait, you don't know where to get started? Right? Let me lead and guide you step by step.
Before you can start running a successful RV repair business, there are several steps that you need to take.
As a first step, be clear about your goals when starting an RV repair shop. Knowing what kind of RV repair shop you want to become is important. For instance, if you want to become an independent shop or work at a dealership or a camper repair service.
Moreover, if you find that owning a physical RV repair shop is not your thing, consider doing a mobile RV repair business. If you want to start a mobile RV repair business, hire different RV handymen, mobile RV repair specialists (at the whim of the number of customers you have).
However, this is just a short overview. For your better understanding, I will explain each step in detail so that you know its importance and benefits.
Establish a Business Plan
You might be wondering why it's important to have a business plan. I have a question for you: Would you take a road trip without a map? You can, but you won't, right? You will encounter many complications and odds on the road without the map.
However, taking a road map with you will allow you to know which direction to go and which road will take you to your destination more quickly and safely, without any inconvenience.
Your business plan is just like a roadmap for you. As you plan on starting an RV repair business, narrowing down your ideas will make things easier.
With a proper business plan, you don't fizzle out quickly and stay consistent with your plan and ideas.
According to research, 30% of shops are seen growing faster than the ones without a business plan. 71% of successful companies have a business plan.
A well-established RV repair business plan will provide a clear picture of your company's future, strategies, path & goals. When you craft a well-developed business plan, you can get funding, attract investors, and ensure everyone is on the same page.
Are you looking for a business plan? You can get your RV repair shop business template here.
Learn and Understand Your Niche
Let's get you into a scenario.
You run an RV repair shop, but the target audience owns a bike or car, so they will not be interested in your services because they don't own an RV.
It's important to know what your niche is before you start operating a new RV repair business.
Pro Tip: Your business name & logo can also add to your niche. It makes your brand remembered and appealing to your customers.
Knowing your niche is the first step to finding your ideal clientele and building a strong customer base.
This helps you to resonate with your customers in a better way because you are solving their problems.
It also helps you determine the type of services you want to offer and the types of customers you want to target.
Using Google Keyword Tool, you can see what people look for when they search related to your niche online.
Estimate your Expenses
When you decide to start your own RV repair shop, you should know the expenses of owning and running a business.
Understanding these expenses is crucial for planning your business's future, and you can't foresee them.
In addition to the regular costs associated with running a business, there are also expenses related to running an RV repair shop.
As a start-up business, your RV repair shop may have to bear the following expenses. 💰
Labor
Equipment
Supplies
Taxes
Employee Wages
Rents
Bills
Marketing Cost
The best way to estimate these expenses is to keep a record of all your expenses while you are operating your RV repair shop.
This will give you a good idea of how much money you need to invest in your business each month and how much profit you make each month.
When you're starting a physical or mobile RV repair shop, you'll need to cover these expenses.
Charges for Incorporation (Legal)
Licenses
Tools
Vehicle (if you have a mobile business)
Pro Tip: When you calculate your expenses, you maintain a steady profit in your business, and you can increase your profit margin by cutting down unusual expenses.
Choose the Right Location
Location is important in any business, but it's especially important when you're starting an RV repair shop. Why?
There are a lot of reasons why this is the case, but here are some of the biggest ones.
The first thing to think about when choosing a location for your RV repair shop is whether it's a good location for your customers or not. Make sure they don't have to travel too much to get their repairs from you.
Second, will people be able to find you? Is there enough parking for customers? If these answers aren't positive, you need to select another suitable location.
It is also important to consider if the area has enough customers to sustain your business. If there aren't many RV owners in the area, you won't have a lot of people seeking your services.
Whether you are starting a camper repair service or an RV repair business, choosing the right location for your business would be a boon or bane for your RV repair shop.
Right RV Repair Software to Thrive
When you start an Rv repair shop, you definitely get some hand tools that are useful for your RV repair specialists. As a small business, you hiring a lot of staff initially won't be a smart move. So what's the solution? 😮
A good RV Store repair software that works like your manager. Yeah, it will just work as your right hand and makes all pesky tasks easier for you.
I always suggest new business owners get repair shop software because it increases their productivity and makes things easier for them to manage. You have to be smart while running your new RV repair business.
Rv repair software is your power tool; in other words, it allows you to spend more time under the hoods than under pressure. Yeah, you heard it right. With RV repair software, you can easily manage as many customers as you want at once.
You do not have to spend more time calculating profits and margins or even creating invoices. Your RV repair calculator will do it for you.
Read more about why an RV repair software is important for your business. 🤠
Utilize Digital Vehicle Inspections
I asked several RV repair shop owners what they find most challenging. Most respondents mentioned time management and providing accurate diagnosis was their biggest struggle.
Using an RV damage repair estimator lets you see when your customers need their vehicles back, so you can meet your deadlines. It lets you know their concerns that need to be addressed immediately.
You can perform general to detailed inspections without any hassle. Simply mark the vehicle's condition and send reports to customers online.
Create Easy Estimates
I've seen shops wasting their time creating manual estimates in their repair shops. This is a thing of the past.
Rv estimating software allows you to create easy estimates for your customers within a few minutes. This software allows you to create as many estimates as you want to create at once.
Want to show your customers transparency? Digital estimates help you do so. It allows you to create estimates without making your customers feel that they are stripped by your shop.
Attach pictures, videos and your technician's notes against each job and send them to your customers' email directly.
Competitor Analysis
Have you heard people talking about doing competitor analysis before starting any business?
This is important, and as I mentioned above, it's good to take your time in research.
By researching, you have a big picture about what you should be doing and avoiding in your new business.
In other words, learning from someone else's experience is better than repeating the same mistakes by yourself.
You should study two types of competitors before and after starting your RV repair business. This analysis helps you better understand your related niche when you target the right competitors.
Direct Competitors – They are your rivals in the same kind of business as you are.
Indirect Competitors – They might not do the same business which youre into but provide a solution to your niche in one way or another.
Even though RV repair might seem simple, it's important to know what repairs people are actually taking advantage of.
In addition to knowing your competitors' strengths, you should also know what repairs are actually needed in the RV market.
With a broad understanding of the market, you can better tailor your repair services to suit the actual needs of RV users.
For example, if most people are replacing broken electrical components in their RVs, you should also be able to offer electrical repairs.
Similarly, if most people are replacing worn-out tires on their RVs, then you should also be able to offer RV maintenance services. This will help you develop a stronger customer base and differentiate yourself from your competitors.
Hire Trained & Certified Technicians
After researching your market, it's time to start investing in the tools you'll need to get your RV repair business off the ground.
While opening a repair shop with just a few pieces of equipment and a laptop is possible, it will be difficult to succeed in this way.
You must be aware that a business's success is directly proportional to its employees. And if you run an automotive business, this is very important for you to have a crew of skilled technicians around you.
RV technicians have a wide variety of skills and abilities. Whether they are technicians that have worked in the industry for many years or less experienced technicians, it is important to have HVAC certified and trained technicians in your RV repair shop.
Credentials help you know that your technician has been trained in the proper way to fix your customer's RV. If you hire unprofessional technicians, they will keep troubling your customers with expensive vehicles.
Giving your technicians proper training is very important before handing them customer vehicles. In America, customers are enthusiastic about their vehicles. They are always in search of the best RV specialists in the market. 👀
It's important to hire competent technicians and try to build a good relationship with your team. Once you hire them, keep organizing training sessions for your technicians.
I've seen people who don't like to spend money on their technicians, but the reality is an investment in your technicians, and their training would be just like an investment in your home. It will benefit you and bring in more customers to your RV repair shop.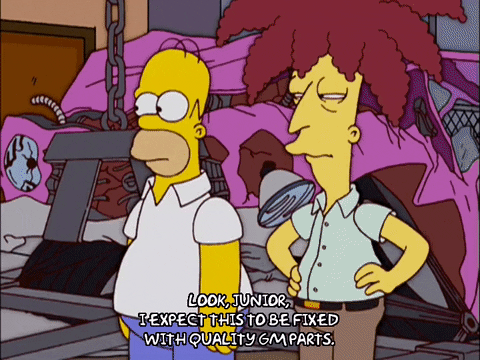 Get a Business License [2023]
To start an RV repair business, you'll need multiple permits and licenses. You have to register your business for different taxes.
They are necessary on a federal and state level. Licensing and permitting fees vary by state and even city. Every state has its own guidelines to follow, and your business must abide by them to gain credibility.
When you are a licensed shop, customers trust you more, especially regarding their expensive RV vehicles.
Have you heard those horror stories where customers were charged an arm and a leg from an ordinary RV repair shop and didn't fix the issue on a car? This is what keeps customers skeptical.
State's business licenses, permits & tax board saves customers from such inconvenient situations and protects them from being taken advantage of.
Moreover, if you display your business license in your RV repair shop or on your website, you will easily gain their trust so that they choose you without any doubt.
You will require different licenses while starting a new local RV repair shop.
| | |
| --- | --- |
| Basic Business Operation License | This license is issued by either the city or county where the business is located (if it is outside the city's legal boundaries). |
| Zoning Permit | Certain types of businesses may be prohibited by local zoning laws. A zoning permit gives you legal permission to open a business in a specific area. |
| Sales Tax License Permit: | To sell different kinds of products in your RV repair shop, you must have a sales tax permit. |
| Federal and State Tax Identification Number | Tax ID numbers are directly related to whether or not your business has to pay state taxes. They are also used for protection against identity theft for business owners. |
BBB Ratings For RV Repair Shops
Have heard about BBB ratings? No? I will explain to you why it's important for your RV repair shop and how it will benefit your new local RV repair business.
The BBB (Better Business Bureau) is a non-profit organization founded in 1912. They wanted to oppose business practices that tricked customers into buying. The BBB receives funding from certified firms and companies to offer consumers free and informative information.
Each company's page can find information about its history, complaints, and legal reports. All complaints are reported to the corresponding business by the BBB.
It's important to make your RV repair shop BBB accredited. It will make your customers trust your RV repair shop more because you meet certain BBB standards. As a result, they won't get skeptical about being overcharged or upsold at your shop.
And if your business gets an A+ rating, that will give you an extra degree of benefit, and you will run your RV repair shop with confidence. So getting a BBB rating will be beneficial for your shop.
Go Digital | Establish A Marketing Plan For RV Repair Shop
This is the digital era, and if you are not considering taking your business online. You will be missing out on Big!
Digital marketing is a crucial tool in any business's arsenal. It is used to promote your business online and can be used in several ways.
For example, you can use social media to connect with your potential customers or email marketing to send them special offers and discounts.
Digital marketing can be a complex topic, but it doesn't have to be. If you clearly understand the different types of digital marketing and how they work together, you will be able to make the most of it.
In 2023 customers are more likely to find you online than any other medium. They use different search engines like Google to see the most businesses near them.
Build a Website for Your RV Repair Business
A website is an essential part of any successful business. In addition to being an online marketing tool, it can also serve as an online shop, customer service portal, and more.
Once you have a functional website up and running, it's time to add some extra functionality to make it more useful.
For example, you could add an online booking system, so you don't have to take customers' phone bookings. You could also add a customer service portal to provide customers with after-sales support.
Pro tip: Torque Digital helps boost your business online. We provide different digital marketing services that give you a higher ranking on Google and other important platforms.
Your new RV repair business doesn't have a website yet? We can help you build one.
Develop a Strong Brand Identity For Your RV Repair Business
The next step in building your RV repair business is to develop a strong brand identity. By developing a unique brand identity for your repair business, you can help distinguish yourself from your competitors and increase your customer base.
To develop a strong brand identity for your RV repair business, you should think about the words and phrases you want to use in your marketing materials.
You could also consider developing a unique logo to help you build a stronger visual brand identity.
You could also consider developing a color scheme that you use in all of your marketing materials. This could help you to more effectively differentiate your brand from your competitors.
Final Words
If you are planning to start an RV repair shop, you should be very sure about which services you will offer in your RV repair shop. You have to decide if you want to give a camper repair services shop, do a dealership, or become an independent repair shop for your customers.
Narrowing down your ideas is very important. You should conduct deep research into the market and see what your competition is already doing and how you can set yourself apart from them.
From choosing the right location to getting the right tools for your RV repair shop everything is important. You have to make smart choices that will help you achieve long-term goals and make your business successful.
Moreover, it's important to stay up-to-date with the latest RV maintenance practices and repairs. This will help you stay on top of trends in the industry and ensure that your repair services stand out from the competition.