Alright, the most awaited month of the year MARCH is back. Travelers are preparing for RV road trips. Are you all set for the rush? RV repairs are a lot more complex and your shop needs a digital solution like RV repair software to meet your deadlines. So that you don't put wrinkles in their plans.
While customers are on a road trip they don't want to face situations, where they get to know that their black tank is clogged, or their refrigeration is showing up. To avoid any on-road inconvenience, they will bring in their RVs to your shop. Therefore, they will expect a complete and proper diagnosis from your technicians.
I will advise you to go smarter with digital solutions. Polish your torque wrenches because you are about to make the most out of this season.
In this blog post, you will learn the benefits that RV software brings to your repair shop.
Happy repairing = Happy RVing! 🚍
Is your RV repair Shop Ready For This Season?
The hardest part of the puzzle for customers is where they should take their RVs for repairing. Your goal is to be their first choice, so make sure you give them a good reason why choosing you will be their best choice.
RV owners are often picky when it comes to choosing a repair shop. The reason is quite understandable because they are expensive. Do you know how much a regular RV costs? Answer: A lot! (upwards of $10,000 if you are curious)
They say " No road is long with a good company" but I say " No road is long with a smooth ride".
Let's create a scenario. Joe planned a road trip to South Florida and wanted to make sure his RV is all set to go. He took it to the repair shop, and they inspected his RV and told him all necessary repairs are done.
He thought it was all fixed and he can FINALLY start his trip. But boy, oh boy, Joe couldn't be more wrong.
Brakes, refrigerator, and heater systems all failed to work properly. It was apparent to Joe that he couldn't continue on with the trip. What started out as a fun excursion, turned out to be not so fun.
His next move was to take back his vehicle to the same shop to get a refund. Because he paid for repairs that were done in the first place.
Joe's experience with that RV repair shop was chaotic, unprofessional and VERY slow. He claimed a refund and decided not to visit them ever again.
Let's say you are a repair shop owner would you treat your customers that way? Of course not. So what do you do to avoid this? Well for starters you will look into using RV auto repair software.
What Are You Offering Your Customers?
Customers don't want crummy things to happen at the time when they are on a trip. In the eyes of your customers, you are like a doctor who will diagnose the problem, prescribe medicine, and they will soon be well again.
So make sure you don't disappoint your customers when they trust you with diagnosing and fixing their vehicles.
When customers bring in their RV, they want to have a smoother experience with your repair shop. Digital solutions save your time and MINIMIZE the chances for errors.
Accurate Results: Utilize Digital Vehicle Inspection
Who still relies on these long methods of paperwork? I don't!
They are boring, clunky, and consume a lot of time. Your most productive time is wasted on managing and shuffling through these papers and spreadsheets. Which you always fail to find on time.
I asked several RV repair shops owners what they find hardest to manage. An overwhelming majority said time management and accurate diagnosis.
In order to meet your deadlines, you need to use RV work order software that allows you to have a look when your customers need their vehicles back. It lets you know their concerns that need to be addressed with top priority.
For modern RV vehicles, use easy and smart digital vehicle inspection software which lets you diagnose the errors in vehicles using OBD scanners. The hours your technicians waste in diagnosing errors can easily be utilized in quality repairs.
OBD scanner will fetch all the error codes and you can give your customers general and detailed inspection within no time.
Another good news for all busy RV repair shops is that you can design custom inspection templates of your own. You can customize them according to RV repair shop needs. How amazing does that sound? No waiting, just repairing!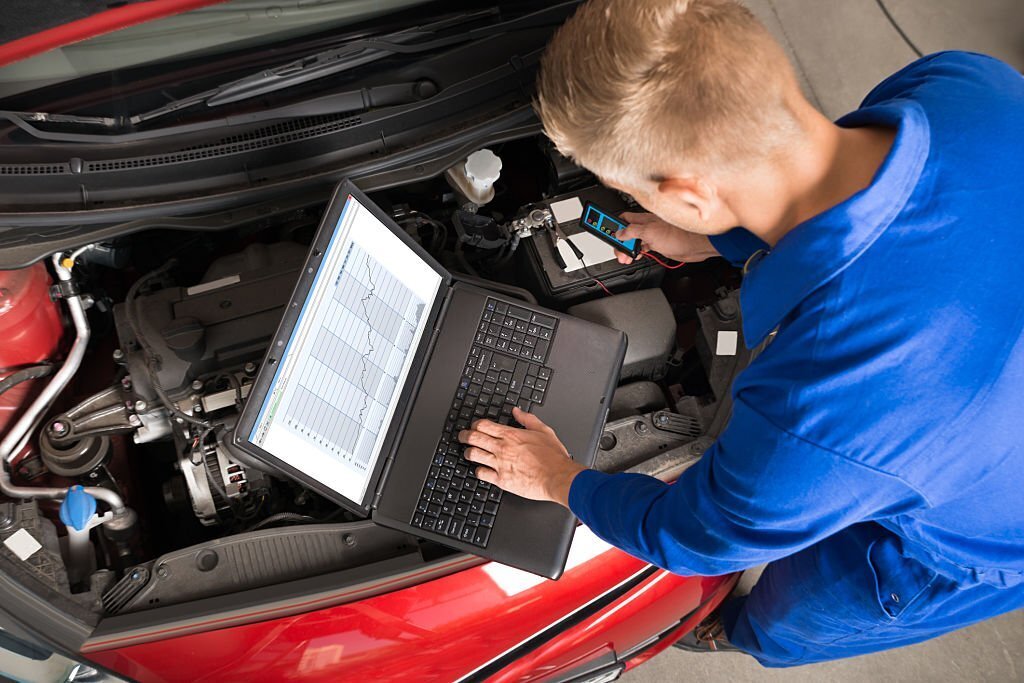 No More Misunderstandings: Give Transparent Estimates
As I shared in the example above, how a shop tried to strip customers' pockets. Many customers think the same when they want to get vehicle repairs.
They feel like shops are trying to upsell them with dishonesty and they are left in the dark. But you are a shop that gives customers warmth and transparency. When they express their concern, you listen patiently and thoughtfully.
If you haven't been practicing this or your customers are not so satisfied with your words, you can simply use your RV software and create authentic estimates through software. It lets you run your shop with a spine.
In order to save your valuable time, you turn your inspections directly into estimates. But the question is why customers will trust your inspections?
It's simple because you will attach pictures, videos and your technicians will add notes against each job. You will simply send customers their estimates over their email address. They can read it, approve it. So convenient!
To avoid any disputes in the end your report is transparent which tells the estimated turnaround time, repair time guide, repair cost, taxes, discounts etc.
Upon any confusion your service advisor, technicians and customers are connected with each other. They can chat within the software against their repair order. Read more about why accurate estimates are important.
Golden Secret
Let me tell you a golden secret here, the more you offer your customers ease at your door, the more they start appreciating you. 😉
And once they are habitual of this ease, they won't choose any other shop. TRUST ME!
Not even the ones who will try to sell them repairs at lower prices. Customers want easy, modern solutions that are time-saving yet yield maximum results.
So it's a golden chance to make the most out of this summer season and take your RV repair shop to the next level. Have a smooth sailing this season. 😎
Conclusion
While you run a busy RV repair shop this season good RV repair software is a must-have. It streamlines all your workflow, helps you deliver better.
It takes your minimum energy and helps you deliver back with maximum productivity. This productivity will make your customers trust you more and they will spread word of mouth for your business.
RV repairs are time-consuming so let your technicians work automated with the right software. Let them do digital inspections rather than wasting hours and hours manually inspecting vehicles.