While you run an auto repair shop, there are a lot of tasks that you have to perform timely, in other words, you have more things up in the air than you have hands to catch them. But if you use auto repair software for automating your tasks, you can successfully hook everything including serving your customers.
When you simplify your workflow, you are able to generate more revenue. How? It will let you complete your tasks in less time. Rather than investing all your time on a single task, you will be automating many tasks like scheduling appointments digitally, creating quick estimates, generating multiple digital invoices for multiple customers. Multiple customers mean we are multiplying everything including your monthly revenue.
So now you don't have to worry when you have to handle a large amount of work in your auto repair shops. But if you will be spending the whole time on repetitive tasks doesn't matter how creative you are, you still feel like a cog on their own machine.
Simplify Your Tasks 10x Times
Let me tell you one thing: the workflow is the key to a successful automotive business. Each step is interconnected with each other for instance, when vehicles arrive at your shop. Inspections are necessary before providing estimates, and without estimates, you cannot generate an invoice. So each step is considered.
For all startups in the auto repair business, I tell them to handle their shop like a baby, and you don't trust anyone to take care of it, since no one could do it as well as you. So when you simplify your tasks, the next thing you are able to focus on is your shop workflow.
Where you can easily track what your crew is doing, and have a quick glance at everything quickly in your auto garage management software.
Pro-tip: Torque Software covers all aspects of your shop's workflow and takes your business to new heights.
For a better understanding let's discuss, how the workflow works in your shop and how it can be easily simplified.
Faster Inspection
Paper inspections are something from the past now and digital inspections are something in the Present, not the future. When you do paper inspections it is full of hassles.
After you create an appointment for the customer, a customer brings in his vehicle now he has the option to drop off their vehicle and simply go and run their daily errands or stay with the vehicle. If you use digital methods you can simply ask them to leave.
However, if you are still stuck to Stone Age inspection, the vehicle will be sent to the technician for doing the manual inspections, then SA (service advisor) will re-write the inspection. Meantime customers wait for you to come back and give them a paper inspection so that they can approve and leave.
However, with digital inspection, your technician inspects the vehicle using the OBD scanners, which instantly inspects the vehicle in a few seconds and sends error codes to digital vehicle inspection software. They are more accurate and you effortlessly explain everything to customers because it allows you to attach pictures while doing DVI ( Digital vehicle inspections). This brings in more transparency for customers and they trust you more.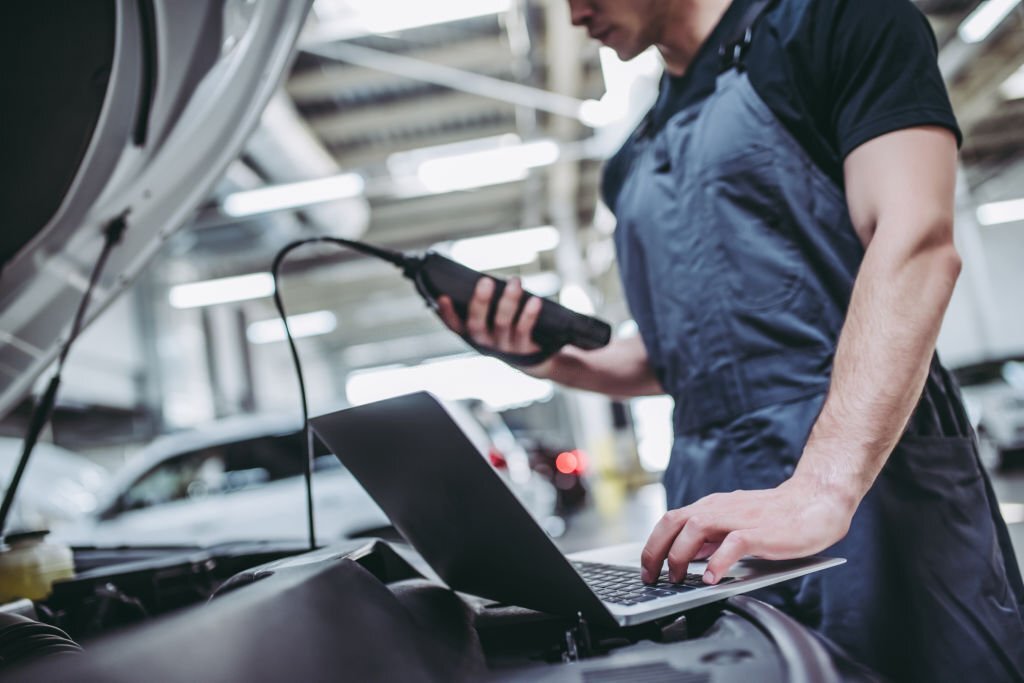 Online Estimates
When a customer trusts your services and leaves their vehicle at your shop, the next time they should visit you again is for taking their vehicle back on the road after all the required fixes.
When your technician digitally inspects the vehicle and updates the work order. Your service advisor sends estimates to your customers' email.
They can approve or disapprove estimates over email, let's say if they disapprove you can instantly edit and make changes they ask for. Auto repair estimating software makes your workflow so much chaos-free and easily manageable
Everything is timely performed and runs consistently but if you try to do everything manually it is nearly impossible to keep track of everything. From your first step (booking appointments ) to your last step ( creating invoices), there will be mismanagement and frustration, especially on high sale days.
Are You Ready To Hit Customers This Summer?
We are about to hit summer, summer means more road trips. WOOHOO!!
What do road trips mean for auto repair shops? Of course, more business is a good chance to mint money and a good chance to see your bay full again. A good business owner in my eyes is the one that is well-prepared before. Rather than waiting and twiddling your thumbs in the slow season, focus on maintenance.
It's a very good chance to maintain your auto repair shops when there are few customers around, you can easily manage and organize your inventories. Replace old technicians' tools with updated ones.
As we are talking about the time when vehicle repairs are not back on the burner. In fact, customers do visit auto repair shops before going on any road trip just to avoid any inconvenience.
Imagine if they take the vehicle on a long drive with a flat tire? What a mess it would be. 😂 You can create great offers to lure them by utilizing your social media to make sure their fun trip remains a FUN-TRIP.
So be ready to repair RV's, motorcycles, off-roaders using motorcycle repair software and give your customers the best repairs and offers to enjoy their summer trip. Become their favorite shop of the town.
Closing Thoughts
Catch all tasks in your auto repair shop using auto repair software and make your shop workflow manageable like all other successful shops in town.
Tasks like creating appointments, inspections, estimates, invoices seem to be easy at first when your shop is just a start over. But as your business grows with time. The same tasks appear to be getting difficult and unmanageable.
Software on the other hand keeps you protected from all the hassles, as well as allowing you to save time and focus your attention on other things rather than repeating the same tasks over and over.