Happy customers are the lifeblood of your business. The catch is, they must be 'happy'. You need to make sure that they really are happy by asking this straightforward question, "Are you happy with our services?" Most of them will let you know exactly where do you need improvements. But there are hundreds of customers…How to keep track of all these valuable suggestions, queries, and requests, and yet prioritize which one to follow? Doing manually will certainly stir chaos in your garage! A smart solution for this would be auto repair management software with an inbuilt capability to track customers and their requests.
You make your day and night one in order to achieve success, or some of you might not be getting enough sleep because of late-hour shifts.
But if you won't be resolving your customers' concerns properly, or focus on retaining them to your shop. Soon you will hit a slow season and your shop will be back on the burner. Because there will be no customers for days and days.
If you will not be applying new methods in your repair shop and keep working hard as a cog in their own machine. It won't be benefiting you and your business will stay where you started no matter how much sleepless night you have spent making your business GROW.
Why do Customers Get Angry On Repair Shops?
You need to understand your customers' psychology when they appear at your shop. It's a skill that you should learn. Many customers are intimidated when they come for getting repairs for their vehicles in auto repair shops.
Customers have fear of expensive repairs and how shops sell their services to them unfairly. From the start, customers' emotions are high, they're fearful of the cost of fixing their car or purchasing a critical maintenance part.
Another thing that annoys them is "TECHNICAL JARGON". Avoid using technical jargon in front of your customers rather than that try to explain to them taking pictures of the parts that need to be replaced or need a simple repair. Address their What's and Why's calmly. I know how hard it is to deal with such customers that question you on everything.
With digital vehicle inspection software, you can attach pictures of their vehicles and parts that need to be repaired or replaced, and make your inspections more trustworthy.
Next time, when customers arrive at your shop give them an environment where they feel comfortable rather than you encroached their sense of comfort, by asking questions that make them feel stupid or they know nothing about vehicles. This is what most service advisors and technicians do to customers rather than lordifying them, play the role of teacher or coach.
I'm not saying it's always you, on the other side of the spectrum, you will also find such customers who will make you feel that they know everything. These ultra-confident customers like to flex their knowledge upon you.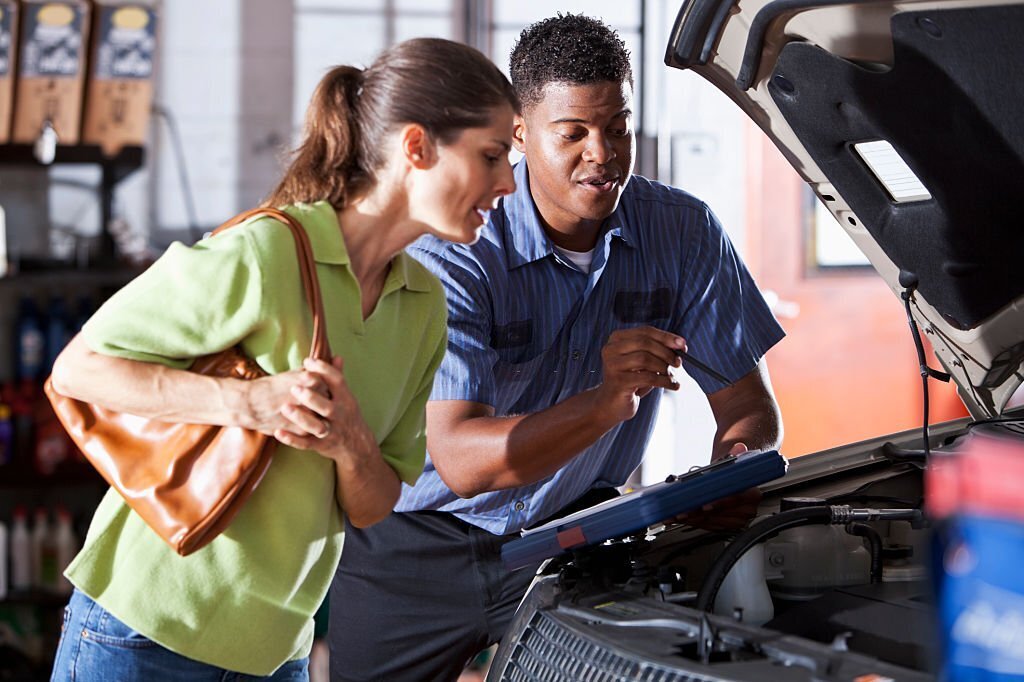 Address Customer Concerns Properly
According to the old saying, "customer perception is reality." That means that, despite how good you may think you are at service delivery, the success of your store depends primarily on what image you have created in your customers' minds.
For example, your motorcycle needs some repairs – you take time out from your busy schedule to get it done, you enter a random shop, there is no one to welcome you in fact nobody seems to notice you. You will be pissed right?
Ah, you should be. Such poor customer service. 😡
Now you are moving your gaze here and there, to find some store manager or any other worker who can give ear to your problem. After a while, someone comes towards you and asks you to wait. Despite your displeasure at the moment, you have no alternative but to wait.
To cut the story short, finally, the service advisor and a technician listen to all your concerns and make sure you're at the right repairing shop and your vehicle is in the right hands.
You leave shop their shop with relief. After 2 to 3 days you come back to receive it back. But they fail to satisfy you, in fact, what you told them to fix still exists there. Imagine the mess between you and them.
Lesson To Learn
Negligence is to blame for this mistake. They lost the paper where they noted down your concerns, and we humans forget things easily. Thus, the technician did the repairs in accordance with what he thought might be wrong.
I'm sure you will ask for a refund, you will never ever return to such a shop again who wasted your time and money. Time is money!! Your negative perception about this shop is now strongly built and this will never make you come back here again.
Pro Tip: Use Torque repair software to address all customers' concerns timely. We value your time!
Use Auto Repair Management Software While Creating Repair Orders
However, if a similar shop was using auto repair estimating software, customer issues would have been addressed properly. How?
Let me take you there, where this software keeps you safe.
You create repair orders for your shop customers, with a digital way utilizing garage management software. Which means no papers– GOODBYE to them.
While you create RO (repair order) for your customers, you can add customers' concerns so that technicians can easily see them while repairing. So if the service advisor or technician forget, it will still be saved in the repair order of that particular customer.
And this step is editable at any moment, you can add customer concerns while doing the inspection, or create estimates using auto repair software. Moreover, your technicians can also add their notes while you are sending estimates to customers. So there is no switching of tabs.
When you offer customers a streamlined and seamless experience when they visit your shop you will impress them, surely.
You might make them your lifetime customer soon. Keep working and impress them with your smart ways using auto repair management software.
Customers' satisfaction should be a top priority! So you will become a shop that values customer satisfaction and their time.
With modern methods customers don't have to sit in your repair shops for hours, they can drop off their vehicle. Rest can be done digitally!
Final Word
Customers' concerns are a top priority if you want to become a famous shop in the town. You are known for the valuable services you provide.
Try to build a positive image for your auto repair shop. Only then customers can trust you blindly. Otherwise, you will always be explaining to customers why you replaced their parts or explaining the cost of repairs. Create invoices through digital invoicing software and explain the cost and amount of each part transparently.
To digitize your shop methods, and to avoid all the confusions use auto repair management software to address customers' concerns and become the apple of their eye.🍏🍎