In the world of wrenches, gears, and the sweet symphony of revving engines, one thing remains constant – the need for high-quality mechanic shirt that can keep up with the grit and grind of the trade.
But here's the twist: you don't have to break the bank to sport workwear that's as tough as the bolts you're tightening.
We've scoured the automotive landscape to bring you the top nine mechanic shirt brands that offer not only rugged reliability but also affordability that won't throw a spanner in your budget's works.
Let's dive in!
Want to grow your mechanic shop? Book a personalized demo now.
What is a Work Shirt? What Type of Shirt Do Mechanics Wear?
A work shirt isn't your everyday clothing; it's tailor-made for hardworking folks, like mechanics. These shirts are built tough to handle the demands of the job while keeping you comfy and safe.
Mechanics, in particular, rely on a specific type of work shirt tailored to their needs. These mechanic shirts are characterized by several key features:
Durability: Mechanics' work shirts are constructed from robust materials like cotton or blends with added strength to resist wear and tear, abrasion, and exposure to various fluids and chemicals often encountered in automotive repair and maintenance.
Comfort: They are designed to offer comfort during prolonged periods of work.
Pockets and Storage: Mechanic shirt typically comes equipped with numerous pockets and compartments, allowing mechanics to conveniently store tools, pens, and small items required for their tasks.
Button or Snap Closure: They often feature button or snap closures for easy removal and ventilation options.
Stain Resistance: Mechanic shirt is treated or made from materials that resist staining, which is crucial given the potential exposure to grease, oil, and other automotive fluids.
Elevate your mechanic business with the finest tools and gear available. Explore Torque360, the all-in-one Auto Repair Software, to supercharge your growth.
Top Mechanic Shirt Brands:
Dickies, a renowned workwear brand, boasts a rich history dating back to 1922.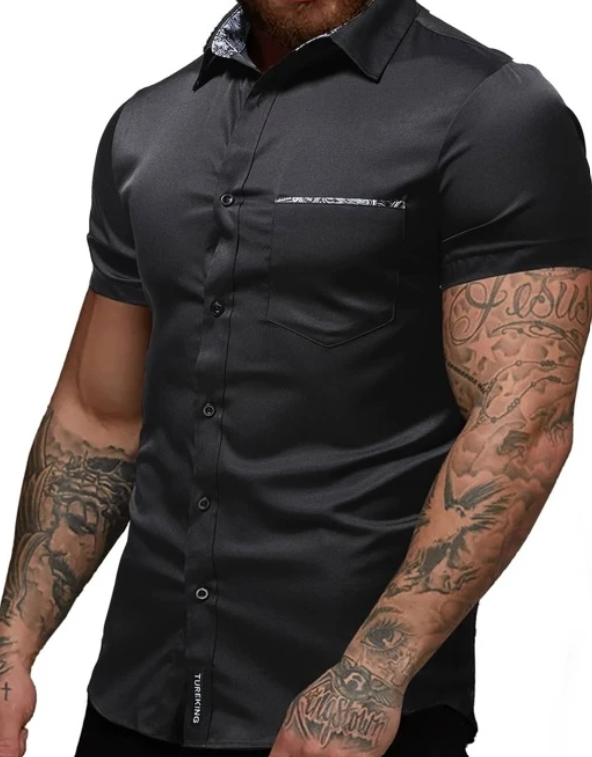 Their mechanic shirts, in particular, stand out with features like durable fabrics, reinforced stitching, and functional pockets.
Dickies' designs blend practicality with style, offering mechanics a professional yet comfortable look for the job. What sets Dickies apart is not just their quality but also their affordability.
Carhartt is a popular choice among mechanics because it's known for making tough and reliable workwear. Their mechanic shirt is strong and long-lasting, designed to handle hard work without falling apart.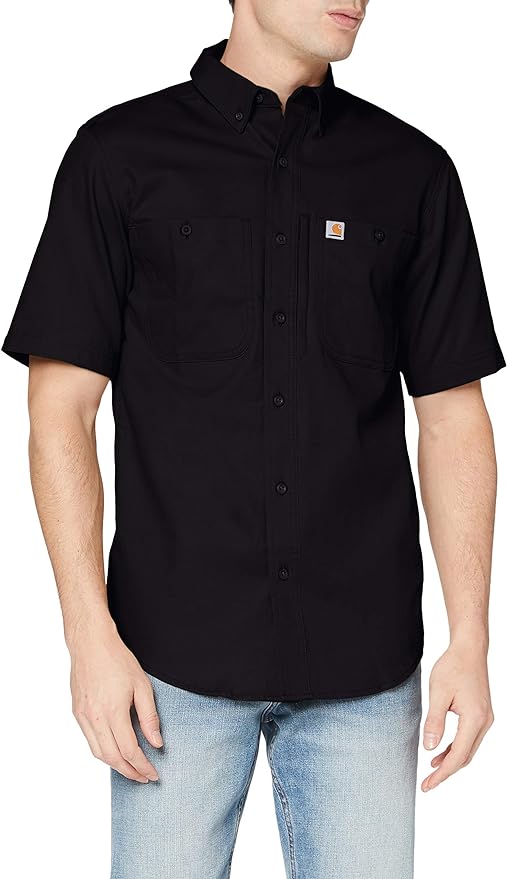 The only drawback is that Carhartt shirts can be a bit more expensive compared to some other brands. However, the quality you get makes them a good value for mechanics who want durable and comfy work shirts that will last. You can make mechanic shirts with logo as well customizable shirts.
Red Kap, your dependable partner in mechanic shirts, brings innovation and trustworthiness to workwear. Red Kap offers a broad range of sizes and customizable options, ensuring a perfect fit for every mechanic.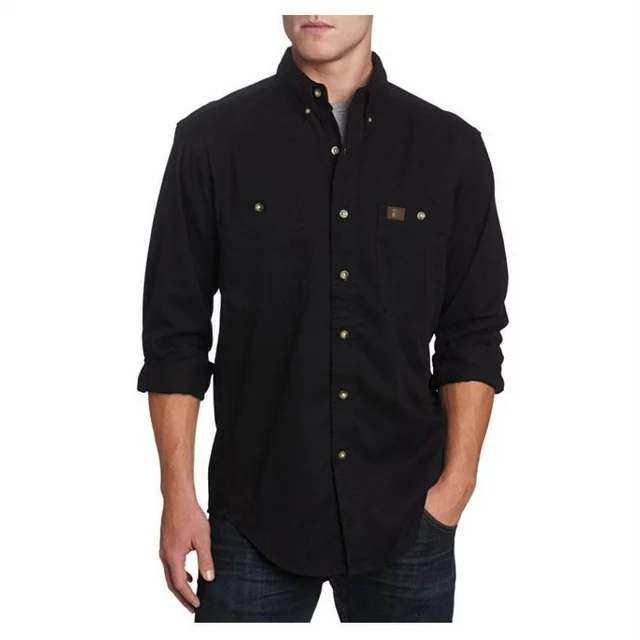 What makes Red Kap stand out is the unbeatable value for money. You don't have to empty your wallet for top-notch quality. With their affordable prices, Red Kap delivers durable, comfortable, and personalized mechanic shirt that not only enhance your work performance but also your style quotient. It has the best short sleeves mechanic shirts
Wrangler, a true icon in workwear heritage, has a storied legacy dating back to outfitting cowboys in the Old West. They've carried that tradition of rugged, reliable attire into the world of mechanics. Wrangler's mechanic shirt blends classic comfort and enduring style. Crafted with mechanics in mind, they offer a cozy fit and freedom of movement, making long hours under the hood a breeze.
You get the best of both worlds: time-tested craftsmanship and budget-friendly options. Wrangler's mechanic shirt is the perfect fusion of practicality, panache, and pocket-friendliness for any hardworking mechanic.
Walls is the trusted go-to for mechanics, known for its unwavering commitment to reliability. Mechanics trust Walls because they deliver on durability and material quality. Walls shirts are built to last, with tough fabrics and meticulous craftsmanship that can handle the toughest jobs. The best part? You don't have to break the bank for quality.
Their shirts are an economical choice for mechanics who want premium workwear that won't wear out or wear down their budget.
Lesser-Known Affordable Brands
In the world of mechanic shirts, there are some hidden gems – lesser-known brands that offer fantastic quality without the hefty price tag. Take "RuggedWear," for instance. While it might not be a big name, their shirts are super tough, built to handle all kinds of hard work. Plus, they won't drain your wallet.
Then there's "CraftsmanPro." They may not be the most famous, but their shirts are like a comfy second skin for mechanics. They're designed to move with you, and they're kind to your budget too.
And let's not forget "WorkMaster." They offer a bunch of different styles, and their shirts are tough cookies. WorkMaster manages to blend top-notch quality with prices that won't leave you scratching your head.
So, if you're after high-quality, affordable mechanic shirts, don't be shy to check out these unsung heroes. They might just become your new favorite workwear brands!
Shopping Tips for Affordable Mechanic Shirts
When you're on the hunt for budget-friendly mechanic shirt that still pack a punch in quality, here are some clever tricks to keep in mind:
Set Your Spending Limit: Decide upfront how much you're willing to shell out for those shirts. A clear budget is your secret weapon.
Hunt for Bargains: Keep your eyes peeled for special deals, clearance sales, and holiday discounts. These events can be a goldmine for wallet-friendly finds.
Go Digital: Shopping online can be your best buddy. Many websites offer better prices and a broader selection than physical stores.
Subscribe and Save: Sign up for newsletters from your favorite brands. They often send you exclusive deals, just for being in the know.
Outlet Wonders: Don't overlook outlet stores. They often stock last season's styles at much lower prices.
Multi-Pack Magic: Sometimes, buying shirts in bundles can save you a pretty penny. Brands love to reward bulk shoppers.
Feedback Matters: Always, always read what others say. Reviews can reveal if a seemingly cheap shirt is truly a steal or just cheaply made.
Think Long-Term: Consider the bigger picture. Spending a bit more upfront for a durable shirt can save you from having to replace it sooner.
Shop Around: Don't stick to one brand. Compare prices and features from various brands to find the best bang for your buck.
Pre-Loved Possibilities: Secondhand shops, online marketplaces, and garage sales can unveil budget-friendly, gently-used shirts.
Click here to get the free template of the oil change receipt
FAQs:
As a mechanic, it's essential to wear practical and safe clothing. A typical mechanic's attire includes coveralls or work shirts and pants made from durable materials like cotton or a cotton blend. These clothes help protect you from oil, grease, and dirt. Steel-toed boots offer foot protection, while gloves safeguard your hands. Safety glasses are crucial for eye protection, and wearing a cap or hat can help keep debris out of your hair. Overall, comfort, functionality, and safety should guide your choice of clothing.
In an auto shop, the dress code typically involves the same principles as what mechanics wear. This includes work shirts, pants, boots, gloves, and safety glasses. The specific requirements may vary from shop to shop, so it's a good idea to check with your employer or supervisor for any additional dress code guidelines or equipment requiremen
Mechanics often wear blue uniforms or shirts because blue has been traditionally associated with the automotive and industrial workwear industry. Blue is a practical color in a mechanic's environment, as it helps to conceal dirt, grease, and oil stains, making them less noticeable. It also reflects a sense of professionalism and reliability, which are important attributes in the automotive repair industry.
While T-shirts can be comfortable, they may not provide the necessary protection and durability required in a mechanic's work environment. It's generally recommended to wear shirts made from sturdy materials like cotton or cotton blends because they offer better resistance to oil, grease, and potential abrasions. However, if the T-shirt is made from a durable material and meets safety requirements, it may be acceptable in some less demanding mechanical tasks. Always prioritize safety and comfort when choosing your work attire.
Conclusion:
Above we have discussed in detail all good mechanic shirt brands. I hope this blog has helped in getting all the information you need.
Take your auto repair business to the next level with a good auto repair management software. Moreover, torque 360 offers all-round automotive management software as well. It includes many features such as scheduling,invoicing, estimating, digital vehicle inspection, repair order management, technician portal, POS integration, and marketing solutions.