Want to grow your garage workshop?
If yes, then it is time to put the pedal to the metal in data management!
In the world of automotive repair, where every nut and bolt counts, efficient data handling can make the difference between a smoothly running operation and a fender-bender mess.
That's why you need a good garage workshop automotive database repair software.
In this blog, we will discuss everything you need to know about automotive software for your garage workshop.
After reading this blog, there will be no jargon and no hassle related to the data management of your workshop. Just simple, creative, and crisp insights, real-life stories, and pro tips to help you choose the perfect software.
Let's get started!
Want to grow your auto repair business? Book a personalized demo now
Understanding Automotive Repair Software for Garage Workshop:
At your workshop, every second counts. Thus, the right tool in your hand can make a lot of difference in your garage business.
There are now many technological tools available in the market that can help you in this. The most important one is the automotive repair software. It can act as a powerful digital toolbox to transform your garage into a well-oiled machine.
So what is automotive repair software?
It is like having a helpful friend in the car world. Car shops and repair places, like body shops or inspection centers, use these tools. They help keep records of car repairs, service schedules, and even estimates for fixing cars.
Managers love them too. They use auto repair software to organize work and handle things like ordering parts and paying bills.
Even regular car owners can use them. They can figure out how much a car repair might cost and get price quotes from local mechanics.
So, whether you're a car expert or just someone who wants to be smart about car stuff, auto repair software can make things easier.
.
Workshop Data Management Challenges: Features to look for
In the hustle and bustle of garage workshops, data management can be like navigating a winding road filled with unexpected curves. The challenges faced by these workshops in handling data effectively are as real as a wrench in hand, but they are essential to address for a seamless operation.
Accurate Records
Imagine a workshop without records – it's like driving blindfolded. Accurate records are the heartbeat of any garage workshop. They keep track of every repair, every part, and every customer. Without them, it's impossible to know what's been done, what's needed, and what's next.
Inventory Tracking:
Inventory is the workshop's treasure chest. It holds the parts and tools needed for repairs. But, managing inventory can be as tricky as solving a car puzzle. Keeping tabs on what's in stock, what needs reordering, and what's collecting dust on the shelves is crucial to avoid costly delays.
Customer Care:
In the world of automotive repair, customer satisfaction is king. And for that, you need information. Customer details, service histories, and preferences are the building blocks of personalized service. The challenge lies in organizing and accessing this data swiftly to provide top-notch customer care.
Service History
Just like a car's history affects its value, a vehicle's service history is its life story. It reveals what it's been through, what repairs it's had, and what it might need in the future. But, keeping this history accurate and up-to-date can be a tall order.
Top 3 Garage Workshop Automotive Repair Software
Torque 360 is not just another automotive database repair software; it's a game-changer for garage workshops. This robust and comprehensive software is designed to streamline your workflow, increase transparency, and boost your overall productivity. Let's delve deeper into why Torque 360 stands out from the competition.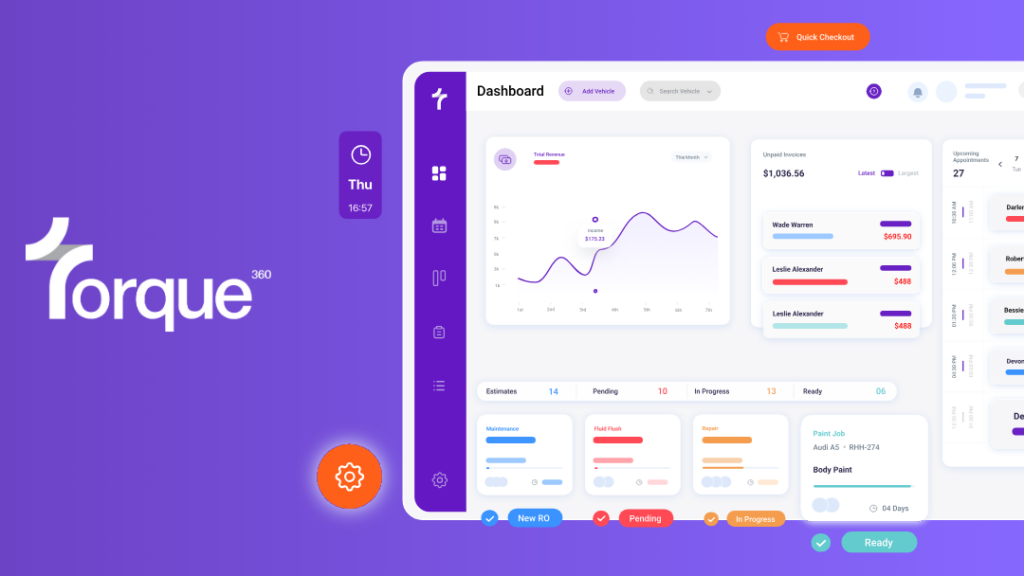 Key Features and Functionalities
Quickest Estimates: Torque 360 provides lightning-fast estimates, ensuring your customers receive prompt responses to their repair inquiries.
Fast Job Creation: Create jobs efficiently, saving time and ensuring your garage stays organized.
All Around Transparency: With Torque 360, transparency is key. Keep your customers informed at every step of the repair process.
Integrated with QuickBooks: Seamlessly integrate your financials with QuickBooks for simplified accounting.
Digital Repair Orders: Say goodbye to paper-based processes with digital Repair Orders (ROs).
Advanced Inspection Tools: Conduct detailed inspections with ease, enhancing the quality of your work.
OBD Error Code Lookup: Quickly identify and resolve issues with OBD error code lookup.
Powerful Reporting Tools: Gain insights into your business with robust reporting features.
Appointment Scheduling: Simplify appointment booking and scheduling for both you and your customers.
Click here to learn more.
Workshop Software
Another automotive database repair software for garage workshop is Workshop Software. Another Workshop Software is a versatile solution designed to meet the specific needs of garage workshops.
Key Features and Functionalities
Integration with Your Entire Toolkit: Workshop Software shines in its ability to seamlessly integrate with your existing tools and systems. Whether it's inventory management, payment processing, or communication tools, Workshop Software can adapt to your workshop's workflow.
Customer Management: Efficiently manage your customer relationships with Workshop Software's customer management features. Keep track of client information, service history, and communication history all in one place.
Dead Simple Invoicing: One of Workshop Software's standout features is its user-friendly invoicing system.
Automated Service Reminders: Workshop Software helps you keep track of service schedules and send automated reminders to both your workshop team and customers.
MMH Auto

MMH Auto is a comprehensive automotive database repair software that has gained recognition in the industry for its diverse range of features and functionalities.
Key Features and Functionalities
Adjustment Data: Access essential adjustment data, ensuring precise adjustments for various vehicle components and systems.
Diagnostics with Diagrams: Diagnose vehicle problems with the aid of clear and intuitive diagrams, simplifying the troubleshooting process.
Exterior/Interior: Get insights into both exterior and interior vehicle components, ensuring comprehensive repair and maintenance.
Fault Codes: Quickly identify and address fault codes, minimizing vehicle downtime and ensuring customer satisfaction.
Fuses and Relays: Access information about fuses and relays, crucial for diagnosing and resolving electrical issues.
A Balanced Comparison:
Here are all the top three garage workshop automotive database repair software. We have also made a comparison table so that you can make an informed decision while choosing software for your garage workshop: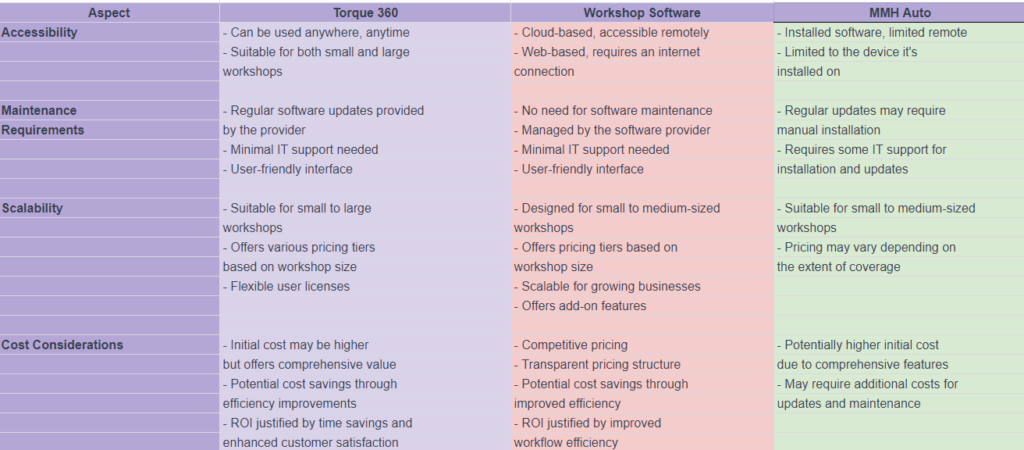 Garage Workshop Database:
This section will give you free garage workshop data for automotive database repair software.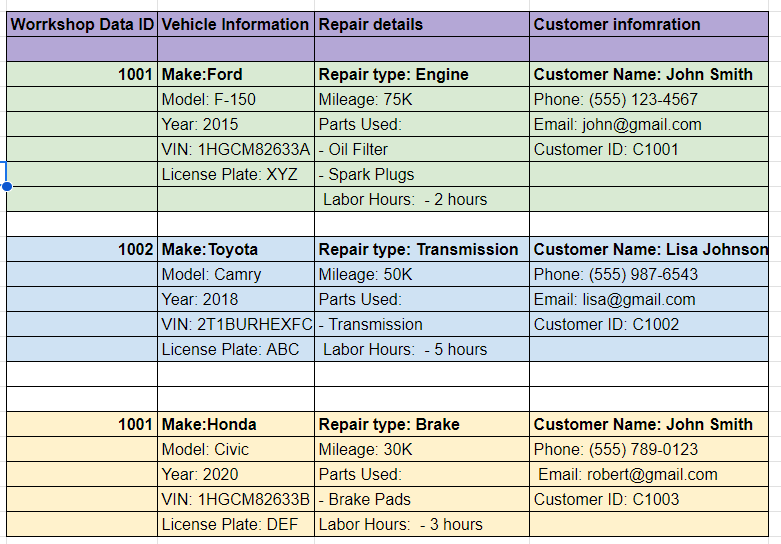 Certainly, here's the updated answer with "Torque 360" included in question 4:
FAQs:
Garage management software is referred to as an application made to automate different operations in the garage. It can help you manage your garage such as tracking vehicle repairs, gathering customer information, and inventory management. This software is the perfect tool for effective garage operations.
A workshop management system, often used interchangeably with garage management software, is a comprehensive software solution tailored for automotive repair workshops and garages. It encompasses a range of features, including appointment scheduling, inventory management, billing and invoicing, employee management, and customer relationship management, to enhance the overall efficiency of workshop operations.
Setting up a home car workshop requires careful planning and consideration. Here are some steps to get you started:

Designate a space: Choose an area in your garage or a dedicated workspace where you can work comfortably.
Invest in tools: Acquire essential automotive tools and equipment such as wrenches, socket sets, jacks, and safety gear.
Workbench: Set up a sturdy workbench with proper lighting for your workspace.
Organization: Keep your tools and supplies well-organized for easy access.
Learn and practice: Gain automotive knowledge and skills through courses or self-study, and practice on your own vehicles or those of friends and family.
A garage management system typically offers a range of features to streamline operations. These features may include:

Appointment scheduling: Easily manage customer appointments and service bookings.
Inventory management: Keep track of spare parts, tools, and supplies.
Billing and invoicing: Generate invoices and track payments.
Customer database: Maintain a database of customer information and repair history.
Employee management: Manage staff schedules and assignments.
Reporting and analytics: Access data and reports to analyze business performance.
Integration: Connect with other software or systems for seamless operation.

The specific features can vary between different garage management software solutions, including Torque 360, so it's important to choose one that aligns with your garage's unique needs.
Determining the best garage workshop software depends on your specific needs and the size of your operation. Torque 360, among other options, offers features that can help streamline your garage management, including appointment scheduling, inventory management, billing, and more. To find the best fit for your garage, consider factors such as features, scalability, user-friendliness, and customer reviews.
Wrapping up:
Above, we have listed the 3 best garage workshop automotive repair software. I hope this blog has given you all the information you need to make an informed decision.
You can take your auto repair business to the next level with good auto repair management software. Moreover, torque 360 offers all-round automotive management software as well. It includes many features such as scheduling, invoicing, estimating, digital vehicle inspection, repair order management, technician portal, POS integration, and marketing solutions.